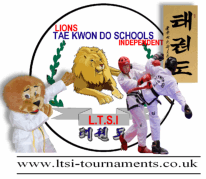 L.T.S.I. TaeKwonDo Administration:
Our Admin. section delivers the following:
Competitors online registration (note, only paid entries will appear within 24 hours)
Instructors login area
Umpire registration – to register as an umpire at our events
Umpires listed
Coaches registration – if you are not registered, you cannot coach
Coaches listed
Instructors area log in
L.T.S.I. Tournaments Contact US
Only 425 allowed to enter - register NOW to guarantee entry
Online Entry System NOW LIVE
​Fully matted event (6 rings, 7 by 7 metre), ensuring your safety always
Best bespoke awards by far every time
Fully insured events
First aiders on site
Public canteen on location
Free meal for all officials
600 plus spectator seats provided (bleachers).